Lux Performance Prepares Dodge's Greatest Viper for the Stars
ALOHA, OR, July 7, 2010
– Lux Performance Group, LLC was announced today by Chrysler Group as project manager of the Celebrity Driver Program for the new Dodge Viper Cup. Lux Performance Group has been a Dodge "works" program since 2005 making the Northwest-based operation an obvious choice for the honor of overseeing the preparation of the pair of Dodge Viper ACR-X race cars. Lux Performance, which introduced the Dodge Viper SRT10 to SCCA Club Racing's T1 class winning multiple championships before moving to the Pro Racing World Challenge with the Dodge Viper Competition Coupe in 2007, will be responsible for every aspect of the Celebrity Driver entries in the five- weekend, ten-race series.
The Dodge Viper ACR-X Celebrity Driver program is the latest in the development of Lux Performance Group, LLC. Their success with the preparation of race vehicles for lead driver/co-team owner Cindi Lux (Aloha, OR) evolved into building and maintaining race machines for other drivers and teams. Eventually, Lux Performance's track record brought them to the highest levels of professional road racing, most often with the Viper brand. The Dodge Viper Cup marks the first time that Lux Performance will prepare such high-profile cars for a factory-supported series.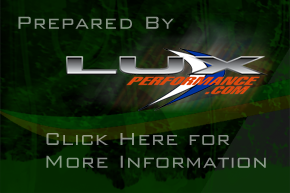 The Dodge Viper Cup is a one-make series using the new Viper ACR-X as the "spec" car in which all drivers in the Series will contest for victory. The 2010 ACR-X is the newest in the line of Dodge Viper super cars which stretches back to 1991. The ACR-X is the track-only iteration of the Viper ACR, itself an ultra-performance edition of the Dodge Viper. While the ACR is street legal, the new ACR-X is built purely for the track and will be the focal point of a new series which is scheduled to launch at Virginia International Raceway (VIR) July 10-11. Events in Hallet, OK will follow August 14-15, Pocono (Penn.) International Raceway September 11-12, Miller Motorsport Park in Salt Lake City on October 2-3 and close at Spring Mountain, NV the 23rd-24th of October.
Lux Performance Group's Cindi Lux will help prepare the ten special guest drivers in advance of the race weekends. Lux, herself an accomplished racer with 12 road racing championships on her resume, is not new to training amateur drivers for competition cars. The Aloha, OR-resident has helped train celebrities for the Long Beach Grand Prix Celebrity Race. The honor of racing in the Viper Racing Cup Special Drivers ACR-X will first fall to United States Olympian, bobsledding medalist Mike Kohn and Road & Track magazine's Detroit Editor Shaun Bailey.
All races will be broadcast on Versus on tape-delay with the VIR Round 1 on July 24 at 2:00 PM (ET), VIR Round 2 on July 31 at 2:30 PM. Check local listings and
www.viperheadquarters.com
for remaining broadcast times.
Quotes:Ralph Gilles, President, Dodge:
"Lux Performance Group has been a great partner to Dodge and the Viper brand for five years. Cindi and Fred Lux are a part of the Dodge family and that is very important in this environment. When we looked to add the celebrity aspect to our new ACR-X-based Viper Racing Series, we wanted a trusted partner who knew Vipers and that the Viper community was familiar with. Their background with the Dodge Viper Competition Coupe and SRT10 Club Racing programs as well as Cindi's background working with celebrities in the Long Beach race made Lux Performance a perfect fit. We are looking forward to yet another exciting season working together in the Viper Cup."
Cindi Lux, Driving Coach/CEO:
"Bring it on! I love new programs. Dodge has really showed their confidence in our program to award us this opportunity. This new spec series is going to be awesome to be part of. I probably will be more nervous watching from pit lane versus being behind the wheel. It is a real honor to have this program under the Lux Performance Group banner and to work with these amazing personalities."

Fred Lux, Engineer/Crew Chief:
"This is a new task and venture for our team. Prepping the Vipers will be the easy part since we are used to these great cars. I think Cindi has the more challenging role of coaching these new drivers.  But if anybody can do it, she can."
For detailed information on the Lux Performance program, including information on drivers, visit
www.cindilux.com/Viper-Cup
.
For more on Cindi Lux, please visit
www.cindilux.com
. More on Lux Performance Group can be found at
www.luxperformance.com
.
Follow an inside look at the teams activities via
www.twitter.com/cindilux
.
Lux to Teach Local Kids to Win
Aloha, Ore. - June 21, 2010 -
Racer Who Care spokes racer and 12-time road racing champion, Cindi Lux, is set to affirm and inspire children and teens with her personal Quick Tips on Winning in Life, at the Inukai Family Club, Hillsboro, Oregon, 1:00 p.m., June 25, 2010.
Lux who is from Aloha Oregon, was a factory driver for Team Mopar's Dodge Viper Competition Coupe in SCCA ProRacing World Challenge GT Series.  She has raced everything from NASCAR late Models, Drag Racing Snow Mobiles, and road raced Porsche's, BMW's, Corvette's, and Vipers. She is also a Member of National Women's Car Care Council and conducts lectures to various groups on Automotive safety and vehicle maintenance.  Off the track she is the owner of Lux Performance Group, LLC provides full-service race services and custom components to both club level and professional.  Additionally, Lux is an accomplished driving instructor/coach to upcoming racers and celebrity drivers.
Quick Tips presentations center on key universal truths RWC calls Quick Tips on Winning in Life, applicable to all children and teens regardless of age, cultural background, or life experience:  find something to do in life that you really love, study, learn the art of teamwork, find a mentor, take the long view, be flexible with your dreams and goals, avoid the path of least resistance, and more.
The Quick Tips on Winning in Life presentations are an avenue through which professional racers can give back to the communities where they live and race, by inspiring, affirming, empowering, and fueling the dreams of children and teens.
She will be talking to kids, ages 5-18 at 1:00pm, Friday June 25, 2010 at the Inukai Family Club, Portland Area Boys & Girls Club, 460 SE 3rd St, Hillsboro, OR 97123.  For more information, contact the Inukai Family Club at (503) 640-4558.
About Racers Who Care, Inc.: Racers Who Care, Inc. is a West Hollywood, California-based 501c3 charitable corporation, founded in 1993, that works with auto, boat, motorcycle, truck and snowmobile racers dedicated to making a positive difference for our next generation.   In Southern California, and throughout the U.S. in communities surrounding their tracks, RWC's racers have unforgettably impacted kids with exciting observations on how to succeed, presented by people who have -- very publicly, and in a field perceived as ruthless, tough and unforgiving.
Lux Makes Run For The Roses With Viper 50 Years Aafter Dad's Historic Win
PORTLAND, June 7, 2010 – Aloha, Oregon's Cindi Lux knows how to honor her racing roots. The professional racer will bring a new 2010 Dodge Viper ACR-X to the 50th Annual Rose Cup, June 11-13 at Portland International Raceway. Lux will help celebrate the golden anniversary of the event's first winner, Portland International Raceway and the legendary Dodge and Michelin brands in the event. Lux's father, Dick Hahn – now a successful auto dealer in Yakima, WA. – won the inaugural Rose Cup event in 1961. The event was a celebration of the then new race track. Today, the Rose Cup celebrates the annual Portland Rose Festival.
Lux, a winner of 12 road racing championships and 75 victories including her class here last year at the 1.967-mile, 12-turn facility, will bring a race car similar in ways to her father's classic Ferrari Testa Rosa. Like the Ferrari, the Viper ACR-X is a front engine, rear-drive, race-bred sports car that has road-going ties. However, the Michigan-built V10 is light years ahead in outright performance to its Italian-born brethren. Earlier in week, Lux helped make the press debut of the ACR-X at a media event near Detroit. The very car which the media flogged around the Gingerman Raceway there has been shipped here to Portland where Lux Performance Group, LLC – the team owned by Lux and her crew chief/race engineer husband, Fred – has entered it in the Oregon race weekend.
The 2010 ACR-X is the newest in the line of Dodge Viper super cars which stretches back to 1991. The ACR-X is the track-only iteration of the Viper ACR, itself an ultra-performance edition of the Dodge Viper. While the ACR is street legal, the new ACR-X is built purely for the track and will be the focal point of a new, single-make, 10-race series which is scheduled to launch at Virginia International Raceway July 7-11.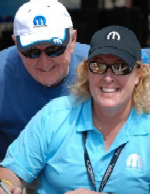 The Rose Cup weekend puts over 400 drivers in contention across multiple classes of racing. Lux will compete for the overall Rose Cup title just as her father did in the 1960s. Unlike her father, Lux will not enjoy wheeling one of the fastest cars in the event. While the Dodge Viper ACR-X is an amazing race machine, by design it does not have the horsepower of the purpose-built, thoroughbred entries in the "Run for the Roses." Being street car-based, the normally aspirated V10 will give-up as much as 200Hp to the Trans-Am class entries. The 1999 ALMS-sanctioned Women's Global GT Champion will have the benefit of a purpose-built Michelin Pilot tire for the Rose Cup. The Michelin racing slick is the same tire on which the ACR-X series will compete this season.
Quotes
Cindi Lux: "Any time I can get behind the wheel of a Viper I feel at home. I am just honored to be part of this historic race event and especially happy to be piloting the new ACR-X in competition. What my Dad did back in 1961 winning the first Rose Cup race is pretty special especially on tiny size tires with lots of horsepower! I think the fans will see a spectacular race on Sunday and maybe with a few fireworks tossed in for good measure! I welcome all fans to stop by our pits prior to the race to say hello."
Jeff Zurschmeide, Director of the Portland Rose Festival Foundation: "Cindi Lux is among the greatest professional racing drivers ever to come out of Northwest and her family history with the Rose Cup makes her participation in the 50th anniversary race all the more important. We're also pleased that Dodge is bringing the new Viper ACR-X to Portland to compete for the Rose Cup. Frankly, we're honored to have a driver of Cindi's caliber and a car like the Dodge Viper ACR-X on board for this historic event."
Women's Motorsports Display honors Lux Career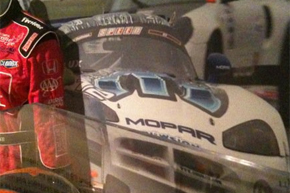 (Aloha, Ore. April 7, 2010) - In February of this year, "Women In The Winner's Circle - A Travelling Exhibit" opened at Daytona International Speedway.  The exhibit recognizes the history, growing achievements and the future growth of women in racing and includes the 12-time champion Cindi Lux, who has 75 victories and more than 150 podium finishes in her racing career.
She's proven herself at every level of competition from SCCA amateur club racing to the top tier of American sports car racing, the American Le Mans Series.
The exhibit celebrates the accomplishments of female racers across all aspects of motor sports worldwide, from the first female entry in the great Paris-Berlin race in 1901 to victories in 21st century open-wheel series, drag racing and other forms of motor sports.
When it comes to racing, "the car doesn't know who's behind the wheel," Cindi has said in numerous interviews.  This exhibit showcases how women have been able to compete and succeed in motor sports.
The exhibit is currently on display at the Daytona 500 Experience in Daytona, and will be travelling to approximately 10 other American venues over the next few years.
Women In Motorsports Foundation
Women in the Winner's Circle Founder, Lyn St. James and The Henry Ford are working in collaboration to develop the traveling exhibition. As a component of the project, The Henry Ford is developing an archive featuring women in racing, which will also be used to develop a highly experiential permanent American Auto Racing Exhibit for Henry Ford Museum.  For more information, visit www.lynstjames.com/foundation.
The Henry Ford

The Henry Ford, located in Dearborn, Michigan, was founded in 1929 by automotive pioneer Henry Ford. This history destination includes Henry Ford Museum, Greenfield Village, The Henry Ford IMAX® Theatre, The Benson Ford Research Center and The Ford Rouge Factory Tour. The Henry Ford, America's Greatest History Attraction, is the history destination that brings the American experience to life.  The Henry Ford provides unique educational experiences based upon authentic objects, stories, and lives from America's traditions of ingenuity, resourcefulness and innovation. Our purpose is to inspire people to learn from these traditions to help share a better future.  For more information visit: www.TheHenryFord.org.