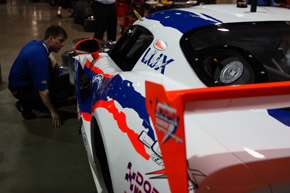 ALOHA, Ore., March 22, 2007 – Over the last several seasons, NayKid Racing has set the standard in the Sports Car Club of America (SCCA) Touring One (T1) class. The Dodge Viper SRT10s of Cindi Lux (Aloha, Ore.) and Scotty B. White (Lake Tapps, Wash.) have won multiple SCCA Club Racing Divisional titles, the prestigious June Sprints at Road America, sat on the pole position for the SCCA Runoffs and dominated that event the last two seasons before circumstances pulled them from victory. This combined success has encouraged Lux and White to purchase two Dodge Viper Competition Coupes and enter a minimum of five races for the 2007 SPEED GT championship. The team will debut their Dodge Vipers in the internationally renowned Grand Prix of Long Beach on April 15.
Lux will pilot the No. 2 Mintex Brakes/Red Line Oil Dodge Viper Comp Coupe while White will be behind the wheel of the matching No. 3 Corsa Performance/Forgeline Dodge Viper Comp Coupe. Following Long Beach, the team will enter the GT races at Miller Motorsports Park (May 17), Toronto, Canada (July 6), Mosport International Raceway (August 24) and Mazda Raceway Laguna Seca (November 19). NayKid Racing is currently working on further marketing partnerships which will allow other events to be added to the schedule. The SPEED World Challenge, which runs one hour events with standing starts using high performance, road car based machines, opened its season at Sebring International Raceway on March 16.
Lux will be making her debut in the SPEED World Challenge GT class this year. While other female drivers have competed in the Series, none enters it with the background of Lux. She has won eleven road racing championships, earned more than 75 victories, over 150 podium finishes and nearly 50 pole positions. Among her highlights is the 1999 American Le Mans Series Women's Global GT Championship, two SCCA June Sprints ('04,'06) titles in T1, four Northern Pacific Divisional T1 class championships in four attempts and the 2003 Oregon SCCA National Driver of the Year Award.
White will be returning to the SPEED World Challenge for the first time since 2004 when he made one start at Portland international Raceway. The six-time SCCA T1 Class Divisional Champion (1999, 2001-'05) was a regular in the SPEED World Challenge GT class in 1999 and 2000, winning the Rookie of the Year title in '99. The three-time SCCA Pro Solo Champion was the first driver to win in SCCA Pro Racing with a Corvette C5 in '99 (Toronto) and followed that with three top-10 finishes in the series in 2000. In total, White has won sixteen motorsports championships, fought to more than 80 victories, over 100 podium finishes and nearly 70 pole positions since 1998.
NayKid Racing, working in conjunction with Dodge Motorsports and Lux Performance, will begin an intense testing and development program in the coming weeks. Both Lux and White will enter the Long Beach Grand Prix with aggressive attitudes but conservative expectations.
Quotes:
Cindi Lux: "Who wouldn't be excited to move into the World Challenge Series? Man, just look at all the diversity of drivers and manufactures in GT! It's time for a new challenge for me, Scotty and the entire team. This year is all about learning and getting seat time. Being a rookie in this series actually takes the pressure off. I am just going out there to have some fun and drive the wheels off that Viper. Even though we are learning the ropes, I'm not going to change my driving style. I am still about putting it on the edge and getting towards the front."
Scotty B. White: "This feels so good! Coming back to SPEED GT, which is really where I started, just feels so right. I know it's kind of backwards to start here then go to club racing then back to GT but who cares? I'm just jacked up to be back! What a hot rod to be back with. These cars are fast, hot, smelly, nasty, loud, badass and everything else a race car should be. I've popped in to see a race and visit the paddock a few times over the last few years. I always feel welcomed and remembered by the drivers and officials so I am really excited about coming back. This awesome Viper is such a hoot to drive I can hardly wait to go out there and knock around a little with some of my old pals!"