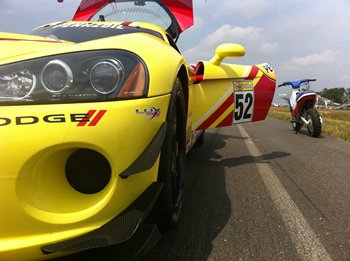 LUX PERFORMANCE GROUP MEDIA NOTEBOOK
DODGE VIPER CUP
TEXAS WORLD SPEEDWAY – ROUNDS 7 AND 8

SERIES: Dodge Viper Cup presented by Pennzoil Ultra
RACE DATE: September 3-4, 2011
VENUE: Texas World Speedway, College Station, TX
TELEVISION AIR DATE ON VERSUS: Race 1: Oct 5, 2011 4:30PM Race 2: Oct 12, 2011
CAR: Dodge Viper ACR-X, race-prepared by Lux Performance Group, LLC

CELEBRITY DRIVERS:
Driver: Jim Jonsin
Car: No.52 Shell-Pennzoil Dodge Viper ACR-X
Charity: National Breast Cancer Coalition
About Jim: American Grammy award winning record producer, songwriter, record executive and entrepreneur. Jonsin has collaborated with numerous artists including, Beyonce, Usher, Lil Wayne, Kid Cudi, Kanye West, Eminem, Nelly, T.I., Danity Kane, and Jaime Foxx. He won a Grammy in 2009 for Best Rap Song for Lil Wayne's "Lollipop". Founder of Rebel Rock Music.
More information about Jim...

Driver: Dar Holdsworth
Car: No.53 Dodge Motorsports Dodge Viper ACR-X
Charity: Pros For Vets
About Dar: Creator and operator of Darwin Motorcycles, LLC. Builder of world-renowned, Brass Balls Bobbers and Choppers: "The above average bike for the average Joe". Over the past several years, Darwin Motorcycles have been featured in many National Magazines and on TV. Darwin has earned the respect of their peers placing third and fifth in the World Championships of bike building (production class). Darwin has done co-promotions bikes with national brands like Gatorz Eyewear and Spectrol. Darwin was selected as a Top-10 production manufacturer in 2008 and Awarded "Production Bobber of the Year" for 2009 by Easyriders and V-Twin Magazine.
More information about Dar...

DODGE VIPER CUP: The Dodge Viper Cup features some of the most celebrated race courses in North America. The 2011 season includes Sebring (FL) International Raceway (May 14-15), New Jersey Motorsports Park (June 11-12), Virginia International Raceway (July 9-10), Texas World Speedway (September 3-4) and Daytona International Speedway (October 22-23).
More information about Dodge Viper Cup...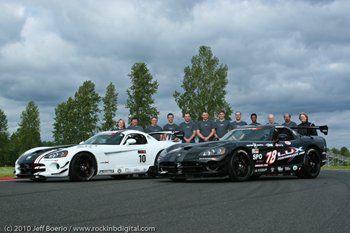 LUX PERFORMANCE GROUP: Lux Performance Group provides full-service race services and custom components to both club level and professional series drivers. Their truly unique and eclectic background provides a limitless realm of possibility in the any area of car construction – including custom fabrication, specialty safety structures, platform development, hybrid technologies and electric motor specialization – as well as business plan development and implementation. Lux Performance is owned and operated in Aloha, OR by Fred and Cindi Lux.
More information about Lux Performance Group...

CINDI LUX: 12-time road racing champion with more than 81 victories and 52 pole positions. Winner of the inaugural American Le Mans Series-sanctioned Women's Global GT Series Championship – all female race series in identically prepared race cars (1999). She was the highest starting and finishing female driver in SCCA World Challenge GT history (Salt Lake City, 2008), Five Top 10 SCCA World Challenge GT finishes.
More information about Cindi...

QUOTES
JIM JONSIN:
About racing in the Dodge Viper Cup: "It's going to be such a great learning experience for me to race a Dodge Viper ACR-X with Cindi Lux and the Lux Performance Group. I'm fairly new to racing. Bucky Lasek and I started our own little race team called Rebel Rock Racing. With the expertise from Lux Performance I could really be up to speed and maybe even get up on the podium. Let's Go Team Lux! Thank you Cindi Lux and Dodge Motorsports for inviting me out to race."

About racing the Dodge Viper ACR-X: "It's a super, badass street car to begin with and I can't even imagine how it will be on the track; so much power and torque. Also, it has to be one of the meanest car designs ever!"

About comparing the Dodge Viper ACR-X and Porsche 911 GT3 Cup car: "The Porsche GT3 Cup is a rear engine car with less horsepower. It's going to be a completely different driving experience. The Porsche is small and a handful of fun but I'm betting the ACR-X is going to be shocking. The power is what I'm stoked about."

DAR HOLDSWORTH:
About his charity bike and how he will showcase it this weekend: "Our charity bike, the RLX, actually has roots in racing. We approached Bobby Rahal last year with the idea to create an American Muscle bike that would pay tribute to his racing career and his race team. We asked not for funding but for his name and PR support in promoting this bike so we could raffle it to raise monies for two military charities: Steel Anchor and Pros For Vets. Pros For Vets being my house charity.

This bike is unique. The cost to build and sell one is approx $60,000. This first prototype that won the world championships is valued at approx $100,000 and someone will win it for a $20 raffle ticket. We hope to show it and share it with the people we will meet this weekend and even sell a few tickets or draw attention to the raffle via VS. TV. We want to turn out big for our troops. People can buy tickets online at http://www.DarwinMotorcycles.com. In a cool bit of coincidence, our bike is poised to be an iconic American Muscle Bike. Similarly, I will be driving one of the great, iconic American Muscle Cars. Thank you Dodge and Lux Performance for your help with this promotion."

About his expectations of racing: "FUN! Are you kidding me? Pinch me! This is a boyhood dream come true. Since I was a little boy I have wanted to be a race car driver. Yet, I was not exposed to it as I was in an orphanage most of my childhood and adopted at age 16. Went into the military after high school and racing did not happen for me. I love torque. I love the sound of a finely tuned engine. I love all the aspects of it. I love controlled speed. I look forward to just participating, learning and having fun."

About working with Lux Performance Group: "Cindi is quite accomplished as a driver and coach. I am looking forward to learning and applying as much as I can from her. Call me a sponge this weekend because I plan to soak up the learning and soak up the fun."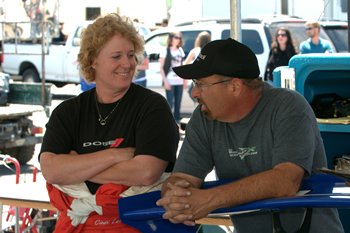 CINDI LUX:
"There will be nothing better than going to Texas in this insane heat storm and driving around in a bunch of crazy-fast Vipers. Anytime you take a TV/Music producer who really loves cars and a top custom bike builder, things are going to get wild. But our guys at the shop have prepared some really fast ACR-X race cars for this coming Labor Day weekend which is something I am very proud of. I can't tell you how entertaining it is to introduce 'rookies' to the Viper brand. It doesn't take too long for them to understand why Vipers are so exceptional."