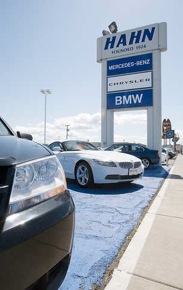 May 16, 2009 - It appears the Chrysler troubles have now become personal for Cindi Lux of Aloha Oregon. On Thursday May 14, 2009, Chrysler Corporation LLC announced that Cindi's family owned Chrysler Dealership since 1924 will be one of the 789 dealers who franchise agreements will be terminated. This dealership, located in Yakima, Washington was one of the oldest Chrysler franchise dealers in the Northwest.
"It is with a deep sense of sadness that we must take steps to end some of our Sales and Service Dealer Agreements," Steven Landry, Chrysler's executive vice president for North American sales said in an announcement. "The decision, though difficult, was based on a data-driven matrix that assessed a number of key metrics."
The Hahn Motor Company still has the strong BMW and Mercedes-Benz franchises. "This is obviously a very, very sad day particularly for my father, who still works 6 days a week at our dealership" said Lux. "There is a lot of heritage being part of the Chrysler family and this will be lost. But we will regroup and hopefully come out of this stronger than ever."