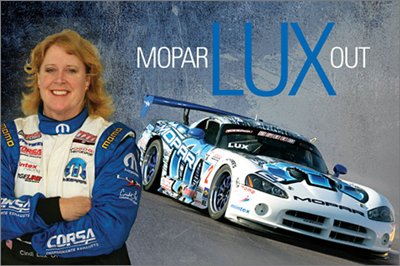 [This article originally appeared in Mopar Magazine.]
Words: Darren Jacobs
It was obvious. Something was missing.
That's the conclusion the brain trust at Team Mopar® arrived at after a quick scan of their motorsports roster. Sure, Mopar-powered drivers had hoisted so many trophies in drag, drift, and circle track racing that their arms ached. And the recent addition of the Collins Motorsports Mopar Dodge Ram 1500 off-road truck to Mopar's line-up had yielded two wins in just four events. But a void remained in road racing, where the brand lacked a factory-backed standard bearer.
Mopar wasted no time in filling that gap with formidable 12-time road racing champion Cindi Lux. The Aloha, Ore. native, piloting the No. 2 Mopar Viper Competition Coupe on the SCCA SPEED World Challenge GT Series, made her Team Mopar debut in fine fashion with a career-best ninth-place finish in the Speed GT event held during the Grand Prix of Long Beach (Calif.) on April 20.
To say Lux's racing resume is impressive is a whopper of an understatement. Lux, who is also owner of her NayKid Racing team along with Scotty B. White, has collected more than 75 victories, over 150 podium finishes and nearly 50 pole positions in various disciplines of road racing. She captured the American Le Mans Series Women's Global GT Series Championship and was presented with the Pro-Driver SCCA Driver of the Year award in 1999. Lux has also earned four Northern Pacific SCCA Club Racing T1 Championships since 2003, is a two-time top-five finisher at the Petit Le Mans and in a limited World Challenge schedule last year, took home two Piloti Rookie of the Race Awards.
Her No. 2 Mopar Viper Competition Coupe, prepared and managed by Lux Performance Group, LLC, will sport the same Mopar "Liquid Metal" Paint scheme that adorns the NuFormz Racing Mopar Dodge Viper SRT10® Formula Drift car piloted by Samuel Hübinette, the Mopar/Oakley Dodge Charger R/T Funny Car steered by Gary Scelzi and the Mopar/J&J Racing Dodge Stratus car driven by Allen Johnson.

"We're very excited to announce Cindi Lux as our driver of the factory-backed Mopar Dodge Viper Competition Coupe in 2008 SCCA SPEED GT competition," said Rob Richard, Mopar's Director - Global Parts, Sales and Marketing. "We're confident that in joining forces with a 12-time champion and veteran racer, Mopar will extend its dominance into the realm of road racing."
"Being part of the Mopar racing family holds more of a significance for me personally due to my family heritage," said Lux. "My grandfather started our family Chrysler dealership back in 1925 and it is still running strong today. I have many memories as a kid sweeping our parts department on weekends with all of those Mopar parts surrounding me. And now I get the opportunity to represent Mopar on the race track. That is awesome." Lux expressed those same sentiments about Team Mopar after her Long Beach shakedown. "This Mopar Viper was phenomenal in the first half of the race," said Lux. "We had to fight the differential at the end but one of the great things about the relationship with Mopar is that they had the Motorsports Engineering group here. They were already in development mode before the race was over. It is great to have that kind of support from a partner."
We're pretty certain the feeling is mutual from Mopar's end as well.