By Sam Moses
Special writer for XLR8
April 4, 2003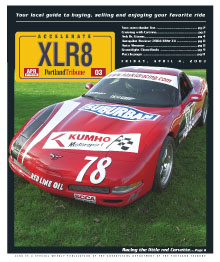 For three days last year I tested a Corvette Z06 at Pahrump Raceway near Las Vegas, a wonderfully challenging road racing circuit. The Z06 is an amazing car, civilized enough to drive on the street and virtually ready for the track right off the showroom floor. It's a better race car than most race cars. The best and brightest of Chevrolet's engineers designed it, reaffirming that when Americans want to build great cars, and are free to, they can deliver.The beauty of the Z06 is one reason Cindi Lux, Portland's latest best racing driver, is so happy to be running the SCCA (Sports Car Club of America) National Pro series with NayKid Racing, a three-car team sponsored by Suburban Chevrolet of Sandy. The dealer sells more Corvettes out of that small town than any other dealer in the Northwest.
"I'm not a big V8 American muscle car kind of driver," Lux says. "I'm not really into the way you have to drive those things: grunt, park it, turn and go. I've always driven more wuss European cars, like Porsches and BMWs. I'm not used to trying to man-handle 400 horsepower and 3,000 pounds on street tires. But it's amazing what these things will do. I'm not kidding, I got out of this car after the first time I drove it, and I'm like, 'This thing ROCKS!' "
That was last year, in the Rose Festival Sports Car Invitational support race for the G.I. Joe's Grand Prix. Lux is rocking even harder this year in the SCCA Pro series; she won her last race, at Arizona Motorsports Park, leading a NayKid 1-2-3 sweep and setting a race lap record. The Corvettes run in a new SCCA pro class called T1, which evolved from the Speedvision Challenge, against Vipers, BMW M3s, Porsches and even Ferraris. NayKid Racing is owned by Scotty B. White, who drives a second Z06 for the team; the third car is piloted by Rick Gilhart of Cincinnati.
White grew up in Portland and now lives in Puyallup, Wash., where he owns Knight Transport, a trucking company. The team gets its name from White's wife LiNay and their two daughters, Hannah and Hayleigh. It's a family team all the way, including LiNay's parents, who drive the transporter. The team's slogan is, "Having fun is top priority; winning races is just a side benefit."
"Cindi fits right in with our team family atmosphere," White says.
"I just can't believe what's happening this year, not just with the car, but the whole team," Lux says. "It's quite a dog-and-pony show, like a professional operation with the three cars and the transporter and all. But it's the most fun I've ever had racing, both behind the wheel and in the paddock."
Lux grew up a farmer's daughter in Yakima. Her grandfather raced in the famous La Carrera Pan Americana, the road race running the length of Mexico (Portland legend Hershel McGriff won the first one in 1950), and her father, Dick Hahn, owned the Ferrari Testarossa that won the first two Rose Cups in 1961 and 1962. "Family legend has it that I was conceived on the night of my father's first Rose Cup victory," she says.
In the 15 years she's been racing, Lux has left a trail of track records all over the west. She has won her class in amateur sports car races 60 times, taken 36 pole positions and claimed eight championships. In 1992 she was named Driver of the Year in the SCCA Northwest division, and in 1999 was Oregon SCCA Pro Driver of the year, as well as champion of the Women's Global GT Series.
"A lot of times," says White, "gal racers rely on being a gal to get attention and sponsorship. The difference with Cindi is, she can wheel a race car. She's fierce — she's goin' to the front, and you'd better get out of her way."
The same might be said of Nancy Jaksich, owner of Suburban Chevrolet in Sandy. The fact that she and Lux are both women may be intriguing, but it's coincidental. Her dealership selling so many Corvettes, however, is not; Suburban Chevrolet has a reputation as the most customer-friendly Corvette dealership in the Northwest, and Jaksich is known as the most gracious dealer, fierce only in her ambition to satisfy customers.
"One thing that's surprised me is the unbelievable loyalty of Corvette owners," Lux says. "We had an event at Suburban Chevy, and it blew my mind. More than 100 Corvette owners showed up on a week night in the middle of winter!"
"It's true, Corvette fans bleed bow-tie red," White adds, referring to the bow-tie-shaped Chevy logo.
So far, the dark side of competitiveness among team drivers has not reared its diabolical head on the NayKid team. "The three of us are pushing each other way faster than we've ever gone before," White says. "Any one of us could be on the pole, and any one of us could win the race. But I give Cindi everything I can to make her car faster, and she does everything she can to beat me. That's the way it should be."
Last year at the Rose Cup Invitational, White finished first and Lux second in her first Corvette ride for him. This year, in the hotter T1 class, she'll be gunning for him. "You can count on it," White says. "NayKid Racing will be at the Rose Cup full force." Contact Sam Moses at This email address is being protected from spambots. You need JavaScript enabled to view it.