Friday, June 11, 2010
Paul Buker, The Oregonian
[This article originally appeared on The Oregonian website.]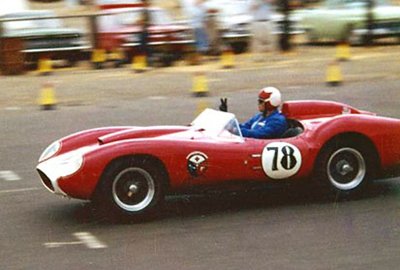 The man who won the first two Rose Cup Races at Portland International Raceway in 1961 and '62 is now 75, living in Irvine, Calif., and wondering how he survived a driving career that often took a wrong turn into the emergency room.
Jerry Grant broke almost every bone in his body in the pursuit of speed and the checkered flag. He spent seven months in a hospital after being badly burned in a crash. He went off a cliff in a snowstorm during the Paris-Dakar Rally and "shattered both knees in about five places."
He said he doesn't walk with a pronounced limp like so many of his contemporaries did in their later years, but arthritis slows Grant on his bad days even if it doesn't keep him off the BMW 1200 motorcycle that can take him from 0-to-60 in three seconds.
"A lot of the guys I drove against aren't around anymore. And me, I did some things I shouldn't have walked away from," said Grant, who will be among the oldtimers at PIR this weekend to help commemorate the 50th anniversary of the Rose Cup races, the second-oldest amateur racing event in the United States behind the Cumberland Nationals in western Maryland.
These days the man who famously lost the 1972 Indianapolis 500 because he drove into teammate Bobby Unser's pits is instead chauffeuring his grandkids to soccer games. But before he raced Indy 10 times and before becoming the first USAC driver to break the 200 mph barrier, Grant showed up at PIR in 1961.
He was a hotshot kid from Seattle who had carved a regional reputation tearing around Northwest tracks in his 1940 Ford Coupe and 1932 Ford Roadster. His cars were lightning fast, and all over the track.
"The regulars were afraid to pass me," Grant said.
He looked like the perfect driver-for-hire to Dick Hahn, the Yakima car dealer and weekend racer whose family had strongly encouraged him, he said, "to be a live coward instead of a dead hero."
"The kid had a lot of polish," Hahn said. "Maybe he took a few chances, but all of these race drivers did."
The Rose Cup race was probably in the bag the moment Hahn and Grant went to Los Angeles and completed their purchase of a Ferrari Testa Rossa that had been owned by Merle Norman cosmetics heir and West Coast racer Jack Nethercutt.
Hahn, whose noted racing daughter Cindi Lux will also be in Sunday's Rose Cup field, said he remembers shelling out $7,000 for the Testa Rossa.
Hahn said the bank was not eager to loan him money for a race car, "so I just told them I was driving it on the street."
From Le Mans and the Targa Florio with Phil Hill, to the streets of Yakima, hauling groceries?
The mind boggles.
Grant's recollection is that he flew down to California with $14,000 in his pocket and nearly wrecked the thing just driving around the Nethercutt complex in Sylmar, Calif.
Grant said the sound the Testa Rossa made when he jumped in and started the V-12 engine convinced him God didn't create all race cars equal.
"Beautiful," Grant said of the purring Ferrari. "Like a symphony to my ears."
The sound of the oncoming Ferrari meant something else to the other drivers in that first Rose Cup race.
Fifty years later, Monte Shelton described what it was like to be on the track with that "howling" ex-factory Ferrari.
"You just kind of watched your mirrors, and let him by," said Shelton, statistically the greatest driver in Rose Cup history with seven wins and 10 runner-up finishes.
Grant won a lot of races for Hahn and he would draw the attention of Dan Gurney and graduate to big-league Indy car racing.
Hahn owned several Ferrari 250 Testa Rossas -- one of history's great race cars -- and doesn't remember paying more than $8,500 for any of them.
Turned out that was a bargain. Hahn said it would probably have been a good move to keep at least one of the Ferraris around, because he read where a Testa Rossa went for $12.5 million at a 2009 auction.
"I sold 'em all," said Hahn ruefully, "but back then $7,000 was like a million dollars to me. I was making $600 a month in salary."
Hahn will also be at PIR this weekend, eager to see his former driver for the first time in years.
Hahn and Grant will be serving as honorary Grand Marshals of Sunday's race.
Hahn said some parts of that first Ferrari purchase and what happened in 1961 are vivid memories and others are "totally blank, like it never happened."
But he won't forget the feeling of watching Grant roar around everybody in that Ferrari.
"To me, it was almost like winning the Indy 500," he said.
"Coming from the little town of Yakima with all the apple orchards, and beating some of the hot dogs they had there? It was a big deal to me.
"I was thrilled to death."