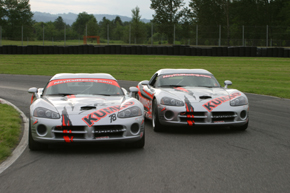 It was great being back on our home turf at PIR to see some faces that I haven't seen in a long time. The SCCA staff in the Oregon Region does a stellar job setting up, running, and managing events out here in the Northwest.
It's an understatement to say, "this year has been challenging" for us. Our new hotrods have been heavily discriminated and held down on their potential by some rules that are just plain ... unjust. This is probably the worst unequal treatment and obvious bias towards another manufacturer I have seen in years. It's so bad that it almost makes me laugh!! Seriously!! But hopefully with enough time, the powers to be will see the light and realize there are no games being played by Scotty and me on the track and that these new T1 cars need a fair shake. I better get off my soapbox here ... sorry.
We just want the same toys as the other kids!!! :)
But one of the nicest things about the new Viper SRT10's is how low maintenance these cars are! Holy smokes, talk about gas and go! I think we just work on them out of guilt! They are so much easier than the Corvettes.
It's so cool hanging out with everybody in this program. We have some new faces under our tent this year and everybody is slowly getting up to speed. One thing that hasn't changed this year is we know how to laugh and have fun with family and friends. Even though we are slightly off the pace on the track, the off-track activities are still hilarious and second to none.
Thanks again everybody for all your support end we encourage everybody to stop by the transporter to say hello. See you at the next race.
Cindi