The creators and powers to be from the Rose Festival Association, the promoter of the CART race, came up with this idea of having a support race for production-based racecars. The idea sounded good, so Scotty and I came up a plan to support it.
Scotty brought out 2 of his toys... his Corvette World Challenge Car and his T1 Corvette National Car. He never did go for my idea of flipping a coin to see which car he would drive and I would drive! He is not a gullible as I would have hoped! Actually, it really didn't matter because the Z06 was a great little hotrod.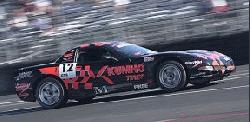 As expected, my teammate qualified his Kumho Tire machine on the pole. I qualified 4th overall and 3rd in GTS. Again, theme for the weekend... FUN and we had tons of family and friends on hand for this race. I cannot tell you how many kids we put into the drivers seat of the two racecars and took their pictures. There is nothing better seeing the eyes of a child light up when you ask..."want to sit in the racecar and get your picture taken?" Taking time for the fans is almost as fun to me as driving.
Finally it was race time, the last race of the day late Saturday afternoon. As the green flag fell, Gary Bockman and Scotty were busy positioning themselves for the chicane and I slipped by going into turn 1. Knowing Scotty the way I do, I am sure he was just chuckling in his helmet as he saw his own car next to him exiting the chicane.
After a few laps, Gary and Scotty caught up and rightfully passed me. A full course caution was necessary when a 944 Turbo crashed heavily on the back section. Thank goodness the driver was ok. This bunched up the entire field.
As the field went green again, Scotty and Gary were once again dicing it out with each other having a great time.
So there we were at the finish.... Scotty 1st overall and in GTS and I ended up 2nd in GTS. Clean sweep for the team. It was a great time and had some good laughs with lots of friends.
Scotty and LaNay White are class act people. My adorable husband Fred (or as some call him...the mad wizard) was there to ensure a successful weekend. It was a real privilege hanging out with everybody!