Richie Hearn - Indy Car Driver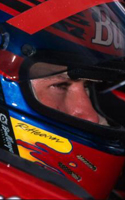 Richie Hearn has an extensive history with open-wheel racing.  He ran in the Toyota Atlantic championship for two seasons, winning the title in 1995.  The following year, he began driving for John Della Penna in both the IRL and Champ Car ranks, capturing the inaugural IRL IndyCar Series event at Las Vegas Motor Speedway.  After a 3rd-place finish at the 1996 Indianapolis 500, Hearn was named co-rookie of the year.
He moved full time into Championship Auto Racing Teams (CART) in 1997 for Della Penna where he earned two top-10 finishes as a rookie.  In 1998, Hearn competed in his second full season of CART, taking eight top-10 finishes.  He also earned his CART career-high fifth at Michigan.  In 1999, Hearn continued his full-time ride with Della Penna Motorsports, taking five top-10 finishes with a season-best sixth at Vancouver.
Hearn has contested a few more Indy 500s since, with a best result of sixth in 2002.  In 2004, he founded Hearn Motorsports, which debuted in the Formula Star Mazda Series, and in 2008 he retired from regular driving and team ownership to pursue new business opportunities and other passions.  He makes his home in Henderson, Nev.