Power Line Marker Lights
These catenary marker lights are powered by the field around the high voltage power line.  During development the prototypes were tested at the power company's high voltage test labe.
Bird Diverters / Flappers
Manufactured for a customer, the bird diverter/ flapper spins in 3 mph wind, sways, reflects and glows for up to 10 hours after dusk to divert birds from flying into obstructions and power lines
Aluminum Power Line Markers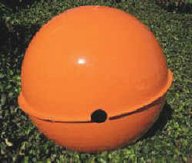 Manufactured for a customer, these aluminum power line markers are designed for high temperature and high voltage applications where plastic and fiberglass markers would melt.  The mounting design is unique and simplifies the installation process.