Hybrid Mini Bike
* For sale * - contact Fred for more information.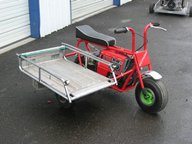 This hybrid mini bike started with a 3 hp electric motor powered by a 24 volt battery system.  Due to the its need to be recharged, at somewhat inconvenient times, a Honda generator was added.  The generator provides DC to the battery charging system and 120 volts AC as a portable electric outlet.
Viper Bike
Fred designed and built this electric bike.  It uses a 400 watt electric motor in the rear hub along with a 24 volt battery pack.  The frame was extended in the center section to accept the battery pack along the top from tube.
Electric Motorcycle
This motorcycle started life as a Kawasaki 80 dirt bike.  It has been converted to an electric drive train using 33 kilowatt electric motor and a 48 volt battery system.  The bike only has one gear but can carry the front wheel on launch.
Electric Go Kart
This go kart is a new project for 2008 and is being developed for a customer.  The kart is bring converted to electric power.  More information will be added as the project moves further along.