Cindi Reports From Miller Motorsports Park
Dodge Viper fans are absolutely nuts.  But I wouldn't have it any other way.  When it was announced that the Dodge Viper Cup race series would be part of the VOI.11 celebration race line up, I knew it was going to be wild.  This would be the first time a lot of the Viper nation members would see these new ACR-X race cars in action.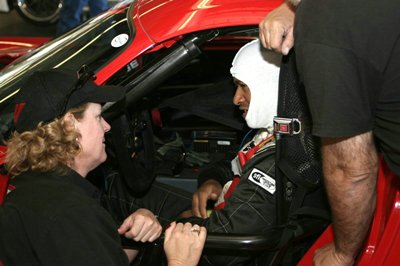 As part of our Celebrity driver program, we had a great line up of drivers.  Rob Pacione is an ice racer and participates in the Targa Newfoundland race. (http://vimeo.com/1847562)  And Ralph Giles, President and CEO of Dodge.  I have known Ralph for years, when I first started racing for Dodge in 2005 in the SRT10 Viper.  I only see Ralph at race tracks and not in the board room in Detroit.  To me, Ralph is a racer, not some large icon within Detroit heading up one of the top auto manufactures in the country.  And believe me; I talk to him like a racer.  (I am glad you didn't hear our radio communication during the race!)
Miller Motorsports Park is my home away from home.  So I know this track inside and out and wanted to convey all the little secrets of this tricky track to my drivers so they could kick some ass.  Both Rob and Ralph took quickly to the East Course that was being used for the race and started laying down some first-rate lap times.  After an impressive day of testing on Friday, I got together with the crew and made a few minor suspension changes to make the Vipers more compliant to each driver.  I really wanted both Rob and Ralph to feel comfortable but mostly confident in each of their hotrods for the race.  Mission accomplished!!
One thing I want to mention is our team members love to win. And they work their butts off trying to make this happen for all our drivers each weekend. This program isn't about "posers"   parading around the race track and waving at their fans.  The crew knew both Rob and Ralph could very easily finish with Top 5 finishes for the weekend.
Qualifying for the first race is super tight.  The top 4 qualifiers were only separated by 4 tenths of a second!!  Now that is what a spec racing series is all about.  Ralph qualified 2nd and Rob 7th.  Now comes the standing starts!  Oops. I actually made a mistake that I felt terrible about.  Yep, I am going to expose myself here to all of you on how I messed up. Let me explain….normally I have each of our guest drivers perform standing starts in the morning warm-up the day of the race.  Well in my quest in getting these drivers prepped for the race, I forget to have them come into the pits and practice their standing starts.  Ralph I wasn't too concerned about. We have practiced standing starts on prior test days prepping for World Challenge races.  But I failed Rob and I felt so terrible.  So he was going blind into his first race without practicing his standing starts.  Crap! But then he just smiled and told me they do standing starts in his ice racing back home in Canada. And I took a sigh of relief.
In the first race on Saturday, both Rob and Ralph had their "moments" during the race. Rob had a little minor paint swapping contact when he was making a thrilling pass on another racer. He had to pit for a new tire unfortunately.  However, Ralph worked himself back up to 3rd and on the last lap in T1, he spun.  And must say, he NEVER lifted off the gas.  What a dirt show he provided to all the fans.  I was on the radio "encouraging" him to stay flat on the gas and get going.  A podium finish was still in his future and stand on the gas and go!!  And boy, did his listen well!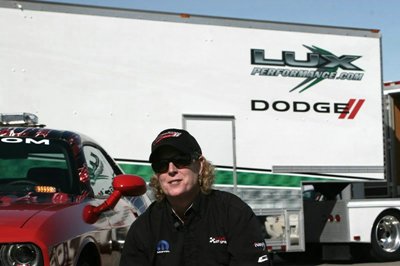 Sunday's race was even more exhilarating.  Rob nailed the start.  OK, maybe a little too much. The officials called him in for a stop and go penalty for jumping the start.  Then with 3 laps remaining Mother Nature opened up the skies and it started to sprinkle.  Cars were going off all over the place and made for one of the most thrilling finishes in the history of the series.  You have to watch this race on Versus when it airs.  You won't be disappointed.
It was special watching the fans get behind the celebrity / guest drivers for this race weekend.  But it was even more special to have them watch the man who helped save the Viper brand.  For 45 minutes each day, Ralph wasn't the CEO of Dodge. He was a race car driver who drove the wheels off his Viper and came home with 2 podium finishes.  The man can certainly hustle a race car around the track.  It was flat out…..brilliant.
Now off to Spring Mountain for the last race of the 2010 season.  Stay tuned.
Cindi Reports from Pocono Raceway
"What do you think about taking 2 rookie drivers who have never driven Vipers before and let them rip around Pocono Raceway doing over 170 mph?  Sound like I should have my head examined?  Naw.
In the 3rd round of the Viper Cup Series, we took Allen Johnson, the factory Mopar NHRA Pro Stock Drag Racer and Bucky Lasek, 8 time XGames Gold Medalist and Dew Tour Champion, out to Pocono Raceway to race in the new Viper Cup Series.  The part I love the most during these weekends is the first time they leap out of the Vipers after driving it for the first time with eyes wide open with amazement.  Almost that "dear in the headlights look".  Total shock and in awe of the marvelous racecar.
I guess the part I was personally looking forward towards at this event was Bucky jumping on The Crippler for the first time and Allen showing the rest of the field how to do a standing start with lights!!  But one of the things I suddenly realized is for the past 20+ years in Allen's triumphant drag racing career, is that he is trained to "go" when the lights turn green. Well in SCCA Pro Racing rules, the 4 red lights come on when its 60 seconds or less to the start of the race.  And when the lights go OUT is when racers leave the line and start racing.  Not when they come on like in NHRA.  So needless to say, Allen was thrown a curve ball at the last minute that he had to retrain himself.  And that he did well.
Bucky on the other hand is the king of skate boarding. Fans adore him.  He is a very famous athlete in his world of XGames and performances. So riding things and doing fancy, insane tricks is something he gets paid big bucks for. So when The Crippler was rolled out of the trailer on Friday night late after most the competitors had left the track and were safely back at their hotel rooms, the fun began.  Or I should say the craziness started.  As much as I would love to go into much detail I probably should not.  However, let's just say there was no blood shed and I think Bucky has a whole new appreciation towards The Crippler.
Both drivers did an splendid job at the track and behind the wheel of the ACR-X Viper.  With just a few slight battle scars from Saturday's race on the white car, both cars were loaded up in one piece and heading out west to Miller Motorsports Park.    Thanks for all the notes on FB and Twitter regarding the event.  Don't forget to follow all the gory happenings on www.twitter.com/cindilux.
Peace out.
Cindi Reports from Hallett Raceway
Viper Cup - Hallett Raceway
It's been a while since I have been to a track that is old and has lots of character.  Kind of reminds of Nelson Ledges back in the 90's of where it was bumpy, tough on cars and Porta potties all over the place.  Well, Hallett falls into this category.  But the track was entertaining to drive. However even though the heat index was 116 degrees for the Friday test day and first race on Saturday, we made the mistake of taking a reading of the heat inside the Viper's cockpit and it read 151 degrees!
However, things took a radical change of events on Sunday morning concerning the weather.  One thing about the weather in Tulsa is it is extreme either way.  The radar only suggested a 20% chance of scattered showers in the afternoon on Sunday.  Well, they were wrong!  At 10 am the skies opened up and it started to pour.  Michelin was then severely hampered mounting rains for teams that morning due to a lightning strike taking out power to the track. So the tire mounting and balancing machines were not working!  Great, now what?
We were able to put one of our cars on rains and sent him out on track to qualify in the pouring rain.  The 2nd car however sat on pit lane up in the air on jack stands waiting for the rain tires to come from Michelin.  An odd site I must say having our car sitting there… just waiting without tires.  Back up at the Michelin trailer, it was frenzied.  All of their staff working franticly trying to quickly mount up the rain tires.  Like in a movie, the rain tires were finished and quickly rushed down to pit lane for the waiting crew to mount them on the car.  With 4 minutes remaining in the qualifying session, our 2nd car was released on a soggy track.  As the checkered flag fell, we ended up qualifying 2nd and 8th.  The car that sat in pit lane for 95% of the qualifying session was actually able to get 1 flying lap that put the car in 2nd place.  This is what I love about racing.  Its keeping your head on straight and staying focused.  Never give up and never let emotions take over.
The 2nd race weekend was a great success for our team.  We ended up winning the race on Sunday and came in 2nd on Saturday.  Raised a lot of money for charity as well.  Make sure you check out the races on Versus TV and also stay tuned to all the behind the scene comment on Twitter during each race weekend.  Follow www.twitter.com/cindilux
- Cindi
Cindi Reports from Virginia International Raceway
Viper Cup - Virginia International Raceway
For the first time in history, Dodge has decided to toss a bunch of nasty, fire breathing ACR-X vipers out on the race track together and have them race.  Sounds like fun, huh?  Then I get a call from Dodge Motorsports to help them create and manage a program to put celebrity drivers behind the wheel of 2 cars and keep them out of harm's way.  Sounds crazy, I first thought but then I said, "Count me in".
VIR was a remarkable track to start off this new series.  Fast, beautiful and very demanding.  And did I say really, really fast?  Since these cars were brand new and never had the chance to get on track yet, I jumped in both cars to shake them down on Friday night.  Both were flawless.  We ended up testing into the dark that night which was pretty cool.  Driving through the esses when the sun was starting to set was spectator.
During the first race, Shaun Bailey from Road and Track radioed in that he tagged the wall.  Immediately Fred asked where he made contact and once he got the location, all you saw was a Crippler at full steam heading out of pit lane towards the car that was against the tire wall.  Actually it was more like a blur!  Within a few minutes, Fred traveled (at crazy speed) across the infield talking on the radio with the driver who was still in the car the entire time asking him questions about the condition of the car.  Fred arrived at the scene of the crash (before any corner workers got to him) and determined the car was drivable back to the pits.  But before Shaun made it around the track and back in the pits, Fred and The Crippler were already back and waiting!  The Crippler saves the day.
- Cindi